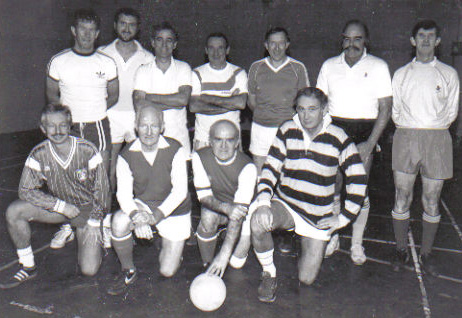 submitted by Barry Jenkinson.
venue St Asaph Sports Hall Friday evenings
above team – rear left to right.
John Evans, ex Rhyl. Godfrey Hughes, Brian Griffiths ex Wrexham and Chester, John Clayton ex Everton and Southport, Roger Riley ex Rhyl, Colwyn Bay, Holywell and Prestatyn. Bob Harris, Harry Kirtley ex Sunderland, Cardiff, Gateshead and Rhyl.
front left to right – Barry Jenkinson, Stewart MacCallum ex Hearts, Wrexham, Southport, Workington and Rhyl, George Marshallsey ex Hibs and Bangor, Les Jones ex Wrexham .